DEVELOPMENT
The top strategic technology trends for 2021

Written By
Harsh Karia
Development
Published:
Tue Nov 08 2022
15 mints read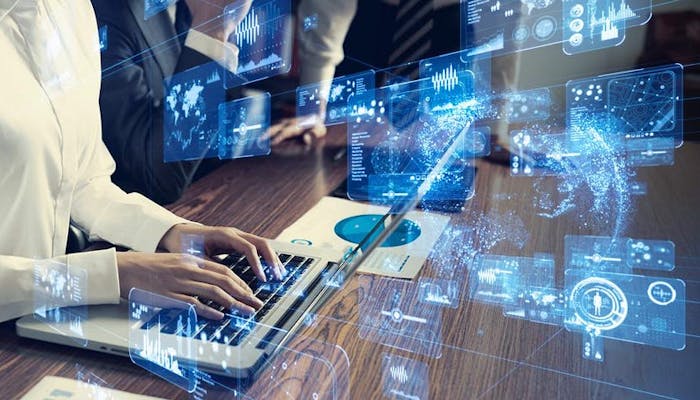 Summary
According to industry analysts, and a research and consulting firm Gartner, a strategic technology trend has the potential for substantial disruption. A strategic technology trend is one that is beginning to break out of an emerging state into a broader impact and use.
I've explained briefly the top strategic technology trends which would take place in 2021 as listed by Gartner.
"When we talk about the strategic technology trends, we actually have them grouped into three different themes, which is people centricity, location independence, and resilient delivery,"
Table of contents
1. Internet of Behaviors (IoB).
2. Total Experience
3. Privacy-enhancing computation
4. Distributed cloud
5. Anywhere operations
6. Cybersecurity Mesh
7. Intelligent composable business
8. AI engineering
9. Hyper-automation
10. Conclusion
1. Internet of Behaviors (IoB)
The Internet of behaviors (IoB) is emerging as many technologies capture and use the "digital dust" of peoples' daily lives.
Technologies that use facial recognition, location tracking, big data, and connect the resulting data to associated behavioral events, such as cash purchases or device usage, are growing. Organizations use this data to influence human behavior.
For example, to monitor compliance with health protocols during the ongoing pandemic, organizations might leverage the IoB via computer vision to see whether employees are wearing masks, or via thermal imaging to identify those with a fever. Another example is for commercial vehicles, where IoB technology can monitor driving behaviors like sudden braking and aggressive turns that companies can use to improve driver performance, routing, and safety.
The IoB can gather, combine, and process data from many sources, including commercial customer data, citizen data processed by the public sector and government agencies, social media, and location tracking. The increasing innovation of the technologies that process this data has enabled this trend to flourish in 2021. However, it is key to note that privacy laws, which can vary greatly depending on geography, will impact the adoption and scale of the IoB.
Gartner predicts that by year-end 2025, over half of the world's population will be subject to at least one IoB program, whether it be private, commercial, or governmental.
2. Total Experience
Total experience combines customer experience, user experience, employee experience, and ultimately multi-experience to impact and transform business outcomes. The overlap in these experiences can be improved with technology, and it enables companies to take advantage of disruptive aspects of the current pandemic such as distributed customers, remote work, and virtual and mobile.
One of the use cases is how a telecommunications company transformed its entire customer experience to improve safety and satisfaction. The company deployed an appointment system via an existing app so when customers arrived for their appointment and came within 75 feet of the store, they received a notification to guide them through the check-in process and an alert letting them know how long it would be before they could safely enter. The company also adjusted its service to include more digital kiosks and enabled employees to use their own tablets to co-browse customers' devices without having to physically touch the hardware.
Gartner said the result was "a safer, more seamless, and integrated overall experience" for customers and employees.
Having a total experience will enable organizations in 2021 to capitalize on COVID-19 disrupters including remote work, mobile, virtual, and distributed customers.
3. Privacy-enhancing computation
Privacy-enhancing computation focuses on three technologies that safeguard data while it is used. The first provides a trusted environment in which sensitive data can be analyzed and processed. The second performs analytics and processing in a decentralized fashion. The third encrypts data and algorithms before analytics or processing.
This trend allows organizations to collaborate on research securely across regions and with competitors without sacrificing confidentiality. This approach is designed specifically for the increasing need to share data while maintaining privacy or security.
Also by 2025, half of the large organizations will implement privacy-enhancing computation for processing data in untrusted environments and multiparty data analytics use cases. Organizations should start identifying candidates for privacy-enhancing computation by assessing data processing activities that require transfers of personal data, data monetization, fraud analytics, and other use cases for highly sensitive data.
4. Distributed cloud
The distributed cloud refers to cloud services being distributed to different physical locations, while the operation, governance, and evolution continue to be the responsibility of the public cloud provider.
By having these organizations' services physically closer, latency is reduced, as are the costs of data, helping to ensure compliance with laws that dictate data must remain in a specific geographical region.
5. Anywhere operations
Anywhere operations refer to an IT operating model designed to support customers everywhere, enable employees everywhere, and manage the deployment of business services across distributed infrastructures.
It is more than simply working from home or interacting with customers virtually.
It also delivers unique value-add experiences across five core areas: collaboration and productivity, secure remote access, cloud, and edge infrastructure, quantification of the digital experience, and automation to support remote operations.
By the end of 2023, 40% of organizations will have applied anywhere operations to deliver optimized and blended virtual and physical customer and employee experiences.
6. Cybersecurity Mesh
The cybersecurity mesh enables anyone to access any digital asset securely, no matter where the asset or person is located. It decouples policy enforcement from policy decision-making via a cloud delivery model and allows identity to become the security perimeter.
The threat landscape expands with a remote workforce, and the cybersecurity mesh offers enhanced security to help with this new reality. Cybersecurity mesh allows the identity of a person or thing to define the security perimeter. Centralized policy orchestration and policy enforcement facilitate a more responsive security approach.
By 2025, the cybersecurity mesh will support over half of digital access control requests.
7. Intelligent composable business
An intelligent composable business radically re-engineers decision-making by accessing better information and responding more nimbly to it.
For example, machines will enhance decision-making in the future, enabled by a rich fabric of data and insights. The intelligent composable business will pave the way for redesigned digital business moments, new business models, autonomous operations, and new products, services, and channels.
8. AI engineering
Gartner's research shows that only 53% of projects make it from Artificial Intelligence (AI) prototypes to production.
CIOs and IT leaders find it hard to scale AI projects because they lack the tools to create and manage a production-grade AI pipeline. The road to AI production means turning to AI engineering, a discipline focused on the governance and life cycle management of a wide range of operationalized AI and decision models, such as machine learning or knowledge graphs.
AI engineering stands on three core pillars — DataOps, ModelOps, and DevOps. A robust AI engineering strategy will facilitate the performance, scalability, interpretability, and reliability of AI models while delivering the full value of AI investments.
9. Hyper-automation
Business-driven hyper-automation can be used by organizations to rapidly identify, vet, and automate as many approved businesses and IT processes as possible.
Although hyper-automation has been trending at an unrelenting pace for the past few years, the pandemic has heightened its demand with the sudden requirement for everything to be "digital-first."
The backlog of requests from business stakeholders has prompted more than 70% of commercial organizations to undertake dozens of hyper-automation initiatives as a result.
9. Conclusion
In conclusion, the top strategic technology trends for 2021 highlighted a rapidly evolving digital landscape, driven by advancements in AI, connectivity, remote work solutions, cybersecurity, and emerging technologies like 5G and quantum computing. These trends were expected to shape industries and pave the way for innovative solutions in various domains. For the most up-to-date information, I recommend checking more recent sources and reports on technology trends.
Thank you for reading!
Develop the best experienced website with our services in UX/UI design